Visit other conferences
by clicking on logos.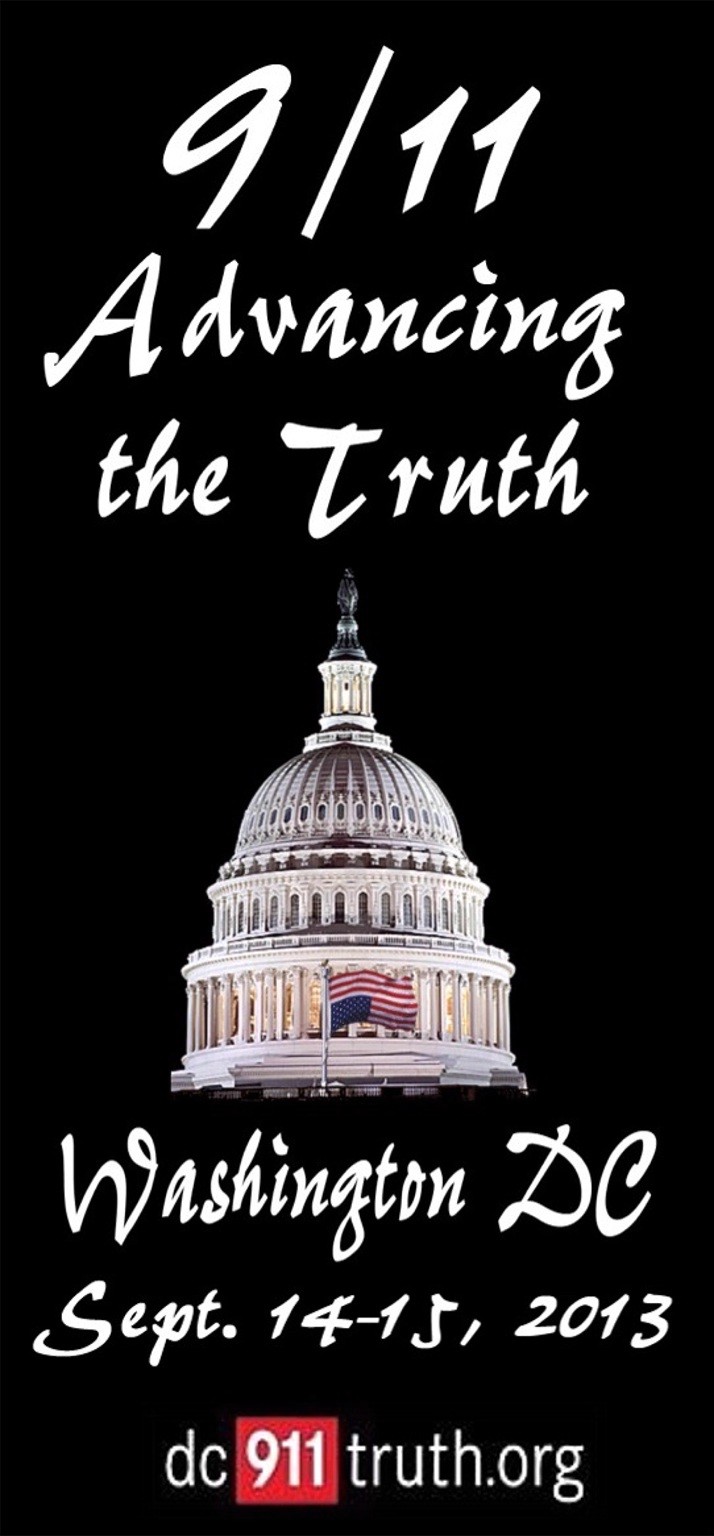 Thank you for your interest in showing our material on public access.
This is a list of some of the material we presently have available ~ all DVDs include shipping ~ you don't have to sponsor a program to obtain this material, show it to friends! Each DVD only $10 donation.
$20 minimum donation for international orders.

Firehouse 911 – The 9/11 video by Firefighters for Firefighters.
Our goal is to send this shorter version DVD to every Firehouse in America!
Your $20 donation gets you a copy and ensures 10 American Firehouses will also receive a copy!

---
9/11: Science & Society by Steven E. Jones is the triumphant culmination of the work of his brilliant research team! Lecture to a Worldwide University given in Sydney, Australia, November 14, 2009. S&S - $20 donation. See Details
---
KR2-1 "Emerging Science" by Kevin Ryan (54:20) see details
"Who DID blow up the buildings?" Kevin names names of the inner circle. $10 Donation

---
NT-1 NANOTHERMITE Military explosives used to destroy the World Trade Center! A Steven Jones video. $10 Donation

---
SJ1-1 9/11 Revisited: Scientific & Ethical Questions Steven Jones, Professor of Physics at BYU, demolishes the official government conspiracy theory and shows explosives must have been used! 2/1/2006

---
NF-1 9/11 & NATIONALIST FAITH: David Ray Griffin's latest video release!
The greatest obstacle to seeing the truth---that 9/11 was an inside job---is not the lack of evidence but "nationalist faith"---the belief that America is the "exceptional nation," whose leaders never deliberately do anything truly evil. David Ray Griffin - Denver, Colorado - October 19, 2007 This DVD started as a four camera live mix. In later postproduction editing, many graphics and video clips were added to illustrate various points of the lecture.

---
KJTNT-1 '9/11 - A PSYCHOLOGICAL OPERATION' by Ken Jenkins. While in Australia, directing the video of the TNT event, Ken took time to give this talk.
He goes into detail about how we are affected by 9/11 and how to effect change with 9/11.

---
WS-1 'Winter Soldier' Veterans Resistance to the Wars in Iraq and Afghanistan. Snowshoefilms Disc One of the IVAW conference in April 2008 - also includes an IVAW fundraiser with preview interviews of WinterSoldier. 1 hour
- see also www.snowshoefilms.com

---
MYTH-1 The Myth and the Reality David Ray Griffin. Extensively illustrated! Tells it ALL. Premier in Oakland, 9/11/2006 - 1 hour

---
KR-1 A New Standard for Deception Kevin Ryan rips NIST report. From Chicago
'Revealing the Truth ~ Reclaiming Our Future' event. 6/4/2006
LGE-1 9/11: LET'S GET EMPIRICAL This talk is based on David Ray Griffin's book "Debunking 9/11 Debunking" and brilliantly rebuts the official conspiracy theory. (59:02)


---
LCFC-1 Loose Change Final Cut Well not quite the final cut. 911TV has made one more. Loose Change is now ready for Public Access. Fits in a 1 hour time slot! David Ray Griffin is Script Consultant to this long awaited Truth Classic celebrating it's World Primier this month!

---
BG-1 The Necessity of the Conversion of the Military Industrial Complex While many Americans are complacent (and complicit) with the growing global dominance of the US Military, Bruce Gagnon calls for the conversion of that huge industrial capacity to alternative energy, jobs for Americans and peace. Our number 1 export is weapons, and without war our economy fails as it is now structured!

---
KJJM-1 The Psychological Implications of 9/11 Ken Jenkins and Janette MacKinlay at the 9/11 Accountability Conference, 2/23/7. Find out how to talk to the "sensitives" and the "hardy" folks in the movement. Learn the difference between "panic" and "urgency" Indispensable information for communicating with the majority of Americans who just don't want to know about 9/11. Plus a bonus David Rovics song. (59:12)

---
NY911-1 We Were Also Killed First Responders, William Pepper, great clips from the NY 9/11/2006 Truth Gathering. Snowshoefilms takes you there!

---
NW-1 Nuclear War in Iraq Tedd Weyman in Iraq. Demonstrates Deadly Uranium.

---
MH-1 "Be the Media" Meria Heller, host of The Meria Show at www.Meria.net opened the 9/11 Accountability Conference 2/22/7 (53:58).

---
KPFA1-1 "KPFA Part 1" - The first hour of this great two-parter with David Ray Griffin and Kevin Ryan.

---

KPFA2-1 "KPFA Part 2" – The second hour with Peter Dale Scott and Peter Phillips. Includes Q & A.

---
DRG1-1 Truth & Politics by David Ray Griffin. A presentation by DRG in Santa Rosa CA October 2005. Elegant dissection of the whitehouse 9/11 commission with lots of video inserts. See FOF-1 for sequel

---

DRG2-1 9/11 and the American Empire: How Should Religious People Respond? by David Ray Griffin. David's 4/18/5 Madison WI talk, shown nationwide by C-span!

---

FOF-1 Flights of Fancy by David Ray Griffin. The Sequel to "Truth and Politics" (T&P-1) the two together, complete the video about his book: "Ommissions and Distortions." Shot in VT 2005

---
BET-1 Behind Every Terrorist, There is a BUSH a benefit show for the SF International Inquiry into 9/11. Finally, a little comedy relief -- talented comics, great music, flash movies. 2/2004

---
911G-1 9/11 Guilt Jim Hoffman (Proving Controlled Demolition) and Don Paul (Indicting Financiers) team up in this excellent expose.

---
S11-1 September Eleventh Revisited Dustin Mugford's great collection, cut for PA

---
PER-1 Perspective on 911 by Ken Jenkins, another great introduction to 9/11 has been around for a number of years. Now in a 1 hour public access version.

---
TGC-1 The Great Conspiracy by Barrie Zwicker, the most professional introduction to 911 there is! Called the "9/11 News Special You Never Saw!" (1 hour and 1:15 versions)

---
CTE-1 Confronting the Evidence by Jimmy Walter. A 1 hour public access version of the 9/11/2004 made for video presentation in New York. No pods or flashes.

---
JH-1 WTC Demolition by Jim Hoffman refutes Official Conspiracy Theory! Pioneering work from the Toronto Event, 5/28/2004

---
KJ-1 Psychological Operations and 9/11 by Ken Jenkin from the Toronto Citizen's Inquiry 5/26/2004.

---
HM+PD-1 Hidden Massacre & poison DUst in a one hour combo.

---
THC-1 The Heartland Café David Rovics sings his heart out in the heartland of America. A solid hour of his boisterous, best, and boldest songs from the songmeister of the 9/11 movement. Snowshoe Documentary Films, Chicago 3/7/2004 (56:59)

---
FOR 1/2 HOUR PUBLIC ACCESS TIME SLOT
RN-1/2 GREEN'S FOR PRESIDENT with Ralph Nader On January 13, the Green Party held a 2008 Presidential Debate. Not really a debate, because everyone agreed! Cynthia McKinney was there too! This video is the eloquent and stirring closing speech by Ralph Nader, to a standing ovation. TRT 29:26 min $10 donation

---
JF-1/2 JANE FONDA-Media Reform Conference Jane Fonda describes the progress and struggles of women in the media during the American-led genocide on Iraq. Jan 14, 2007, Memphis Tennessee (28:56} thanks to www.snowshoefilms.com

---
PPAZ-1/2 "9/11 Truth, the Global Dominance Group and Impeachment" Peter Phillips of Project Censored gives his best at the 9/11 Accountability Conference, 2/24/7

---
| | |
| --- | --- |
| SF-1.1-1/2 "9/11 Pioneers" – Panel discussion with Paul Thompson, an Internet researcher from the US, Barrie Zwicker, a TV producer from Canada, and Nafeez Ahmed, an author from England. | |
| | |
| --- | --- |
| SF-1.2-1/2 "Inside Job" – Jim Marrs exposes the inside job and the magnitude of the crimes perpetrated on September 11, 2001. | |
| | |
| --- | --- |
| SF-1.3-1/2 "The Great Endarkenment" –In a chilling indictment of the US government and the Bush administration, Gray Brechin explicates US international relations, open and covert, which constitute a betrayal of the principles on which the US was founded. | |
| | |
| --- | --- |
| SF-1.4-1/2 "The War on Freedom" – Nafeez Ahmed examines America's peculiar conception of national security, which seeks to protect not the nation and its people, but rather the transnational flow of US capital and the functioning of the capitalist world economy. National Security has provided a pretext for perpetual war. | |
| | |
| --- | --- |
| SF-2.1-1/2 "Documentary of Phase One" – Produced for the Toronto Phase 2 International Citizens Inquiry into 9-11, the gives a great overview of the 9-11 movement, including many of the featured speakers. | |
| | |
| --- | --- |
| SF-3.1-1/2 "INN interview with David Ray Griffin" – David Ray Griffin discusses his bestselling book The New Pearl Harbor in a phone interview. | |
PON-1/2 1/2 hr. edit of part 3 of BBC's Power of Nightmares, wraps it up!

---
HM-1/2 Hidden Massacre The Nightmare of the total destruction of Fallujah by US forces using outlaw weapons: White Phosphorous and Napalm (Now they call it MK-77)

---
PD-1/2 Poison DUst Interviews with gulf war victims of Deadly Uranium

---

FOR 2 HOUR PUBLIC ACCESS TIME SLOT

KPFA-2 Intellectuals Speak Out September 24, 2006, DRG, PDS, KS, PP, RMc

---
WT-2 "9/11 Truth Squads – A Strategy for 2007" Webster Tarpley at his best! Lot's of slides. Insightful historical perspective. (1:58:22)

---
LCFC-2 "Loose Change Final Cut" Loose Change is now ready for Public Access. Fits in a 2 hour time slot! David Ray Griffin is Script Consultant to this long awaited Truth Classic celebrating it's World Primier this month!
ALSO AVAILABLE, VARIOUS LENGTHS:
| | |
| --- | --- |
| ZG "Zeitgeist" Popular video in the Truth movement. the 9/11 chapter is excellent. | |
---
HO History of Oil Robert Newman's highly aclaimed, highly British comedy routine starting with the beginnings of the use of oil in warfare during the first Iraq war (that's WWI) through now (WWIII?). Actually, as most people know, we have not finished WWII.

---
SJLA Steven Jones presentation at American Scholars Symposium, thanks to infowars.com. Jones gives evidence that military thermite and explosives were used to bring down the WTC buildings, 1, 2,and 7.

---
LC2R Loose Change 2 Recut The 911Truth movement blockbuster! 1000's passed out at the NY 9/11/2006 Truth Gathering. (2:27:28) Final Cut coming in 2007

---
CMK1,2 Congressional Briefing Cynthia McKinney (D-GA) held hearings on the 9/11 Commission Report. Commission Report. All day event Two DVDs.

---
TGD "The Great Deception"by Barrie Zwicker (45 min) The first major media questioning of the events of 9/11/2001. Shown only in Canada in seven weekly installments beginning 1/12/2002. Comes with TGC (1:15) uncut on same disc.

---
BBC The Power of Nightmares by the BBC. Three one-hour episodes deconstructing the al-queda myth all on one DVD. Never shown in is country.

---
NF$ Navigating the Falling Dollar by Catherine Austin Fitts. Powerful Strategies for the Ethical Investor in Uncertain Economic Times!

---
NY-A Mike Ruppert indicts Cheney, John Judge rips the 'Omission' Commission, Indira Singh blows the whistle on PTEK. From NY Citizen's Commission 9/9/2004

---
SE Stolen Elections Video concerning vote fraud in recent elections! Marin Peace & Justice Coalition

---
MIL Facts & Myths about Joining the Military Aimee Alison, Pablo Paredes, Aidan Delgado, David Crawford

---
FD1 What I learned about U.S. Foreign Policy, a real eye-opener from Frank Dorrell! Loan this to friends! includes the lost Bill Moyers' episode "The Secret Government"!

---
We appreciate donations of $10 per DVD including shipping. No one turned away for lack of funds. If you prefer to order by email or snailmail, or are unable to donate, please contact 911TV1@gmail.com

Be sure to specify which video(s) you want! And send your address and phone number with your order.

To contact your local public access station and become a sponsor, it is best to just walk in and start meeting the staff. You sign up as sponsor, we provide the video.

See if you can have a continuing slot shown at specific times each week. You can give your program a name like: "911TV Archives". They often also have specials where they show your material when they have empty slots.

To find your public access station go to: http://en.wikipedia.org/wiki/List_of_public-access_TV_stations_in_the_United_States